When trying to figure out a better posting schedule and what kinds of content to post, I mentioned to my boyfriend that I was thinking about doing 'New Brew Thursdays'. I know that it's an Untappd badge and I've seen people talk about it so I thought it would be a good idea. Jason said that I should focus more on 'Thirsty Thursday' being a broader term and therefore giving me much more to write about.
This week's Thirsty Thursday is about where and what I drank throughout the week.
Thursday April, 14
Jason was covering a bar shift at the restaurant where we work so I was on my own for dinner. I ate leftovers and finally finished the strawberry daiquiri/margarita mix I've had in the liquor cabinet. It's not a product I think I'm going to buy again because it is so sweet and artificial tasting. I'd rather just blend some actual strawberries with my booze. I used Master of Mixes Strawberry Daiquiri/Margarita mix, Herradura Silver Tequila, Llord's Triple Sec, and ice. (No photo because I'm lame and forgot.)
---
Friday, April 15
I have so much beer sitting in my fridge that I usually forget what's in there. I pulled a Bank's Caribbean Lager out from the depths of a drawer to have with lunch. It tasted slightly off, but overall wasn't bad.
Appearance: golden/straw, quickly disappearing white head
Aroma: grains
Taste: malty, grainy, clean
Feel: slightly bubbly
Overall: It's fine. There's not much more to say about it than that. It's pretty straight-forward and adheres to the American Adjunct-Lager style. It'd be nice on a hot summer day.
---
Saturday, April 16
I work weekends, so a majority of Friday-Monday drinking is at Killmeyer's Old Bavaria Inn on Staten Island. It's a lovely little family-owned and operated German restaurant. Before I starting working there, I would ask to eat at Killmeyer's when my family had a lot of time or for special occasions since it was located on the opposite end of Staten Island from where we lived.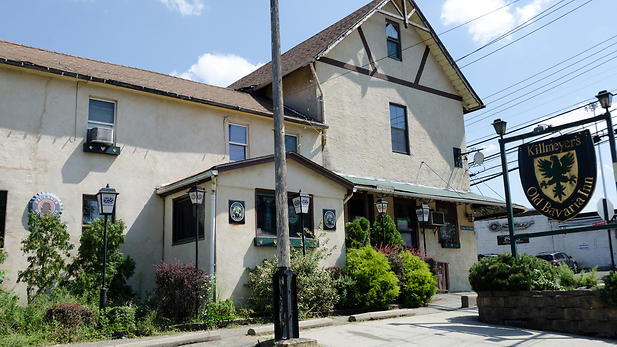 This week after my Saturday night wait shift I changed it up a bit and had a mixed drink in addition to my usual "Surprise me" beer.
I started with Weihenstephaner 1516 Kellerbier. 1516 is a new offering from the world's oldest brewery celebrating the 500 year anniversary of Reinheitsgebot, (the German beer purity laws).
Appearance: hazy, golden, honey coloured, has a thick white head
Aroma: grainy, yeasty, slightly spicy
Taste: malty, grainy, slightly hoppy, slightly floral
Feel: decently carbonated, clean finish
Overall: I was very happy with this beer. I'm not a huge German beer fan, but this limited edition brew is worth having before it's gone!
I also had a lovely Dirty Figtini made with Feigling vodka. Feigling is a fig flavoured vodka from Germany and probably the best flavoured vodka I've ever had. Put this stuff in anything and I'll give it a try.
Finally, I finished off with a Schofferhofer Grapefruit. I simply adore this beer. It's nothing overly fancy and it is VERY fruity, but it is a solid beer. Schofferhofer also hails from Germany. The brewery makes a regular hefewizen and a number of other fruit/hefewizen beers that I have yet to find in New York.
Appearance: hazy light orange
Aroma: grapefruit, yeast
Taste: I find the taste to be more grapefruit peel or a light pink/white grapefruit, yeasty
Feel: clean, refreshing, light/medium carbonation
Overall: This is one of my go-to beers for any occasion. It's sweet, but not overly so. It's nice a crisp on a hot summer's day. Being only 2.5%, it's a great beer for drinking all day or as a breather during a night of drinking heavier beers. I think I like it most on draft, but it's just as wonderful canned or bottled.
---
Monday, April 18
Jason and I went to Ho' Brah for lunch before he drove me in to work. It's a nice little restaurant that serves tacos and other Mexicali type dishes. They have a number of frozen drinks behind the bar in machines and based on the two times I've eaten there- a nice selection of rotating draft lines.
I chose a nice cider since I wasn't feeling all that well. The tap handle indicated that it was Ciderboys Cranberry Road, but when the bartender placed it in front of me, it looked like orange juice. Jason thought that it might be their Mimosa cider and tasted it to be sure. It was and it was perfect.
Appearance:thick yellow orange
Aroma: It smells like a mimosa
Taste: citrus, apple, sweet, champagne
Feel: light carbonation, very smooth
Overall: Definitely something I'd have again. It might be the best Ciderboys I've had so far.
---
Tuesday, April 19
Tuesdays are the start of my weekend and I'll often find myself having a drink with lunch. I wasn't in much of a beer mood, so I pulled some wine out of the fridge.
I escorted my grandmother to her niece's wedding in Michigan back in September. We stayed with one of my grandmother's sisters. While there, my great aunt wanted to know what I do for fun so that she could plan things to keep me entertained for the week we were there. My grandmother told her that I really enjoy drinking. Aunt Marie then decided that I needed to drink on a daily basis and took us to breweries, brewpubs, and a winery.
Forgotten Fire Winery in Wisconsin has a nice little tasting room with all kinds of trinkets and things. I really enjoyed some of the wines I tasted and bought a few bottles to bring home. My last remaining bottle was their Ice Wine. It's a very sweet, thick, syrupy wine made from grapes that were frozen while still on the vine. It comes in a very tall, skinny bottle and clocks in at 12% ABV.
---
Wednesday, April 20
I had a beer with lunch while catching up on season two of Outlander. Harpoon UFO White is another one of the go-to beers. It's a nice, light witbier. If you like Blue Moon or Shocktop, I highly recommend drinking this.
Appearance: hazy gold, quickly disappearing head
Aroma: orange, coriander, grain, fruit
Taste: pretty much the same as aroma
Feel: medium carbonation, light and easy to drink
Overall: I really like this beer in comparison to other witbiers I've tasted. I think the spice really pops in UFO White instead of getting lost behind all the orange.
For dinner, Jason took me to Big Ed's BBQ in Matawan, NJ. They have all-you-can-eat ribs. It's like heaven in a barn shaped eatery.
To accompany my BBQ baby back ribs and half a chicken, I ordered a Shiner Bock. I am fairly certain I've had a Shiner Bock before, but I wasn't sure and it sounded the most appealing at the time.
Appearance: clear reddish brown
Aroma: malt, barley, bread
Taste: malty, a touch of sweetness
Feel: refreshing, crisp, lightly carbonated
Overall:  I've had many other bocks much more aggressively flavoured than Shiner Bock, so this is a really nice introduction into the style.
-Kyra Lynn